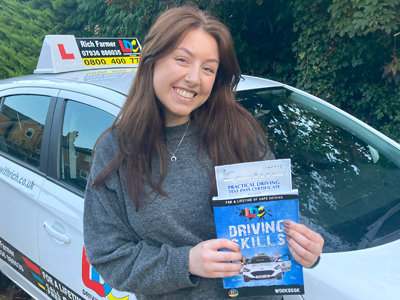 Bethan
Rich has been a great driving instructor. He is calm and supportive and makes sure you feel safe and confident behind the wheel. I found the LDC workbook really helpful to structure my lessons and keep focused by creating targets but also looking at what you have done well. I would 100% recommend going with LDC and with Rich. I feel ready to go out on my own and we'll prepared for anything on the road.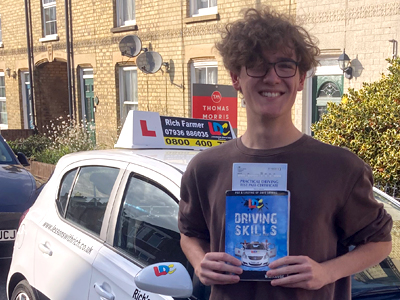 Oscar
First Time Pass
Best instructor I could have asked for. Really easy to talk to and incredibly friendly. I passed first time due to his teaching and support. Highly recommended to anyone at any stage of learning!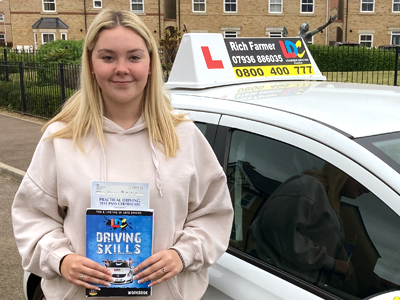 Maddie
First Time Pass
Rich was very friendly and chatty. He did lots of mocks to prepare me for my test and he was very motivating.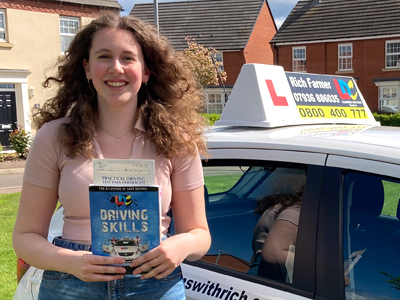 Felicity
Really great lessons
My instructor was really great. Really great lessons and will always help when needed. The LDC hub is great to look at show me tell me questions and to look back at past lessons. I could always ask anything and lessons were really fun whilst getting me ready to pass my test with all the information I needed.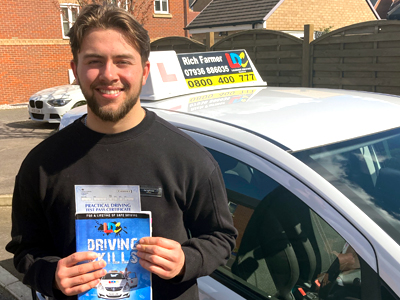 Ethan
Rich was great, very nice and helpful. Not a bad word about the whole learning experience. I would highly recommend Rich for new learners in the area.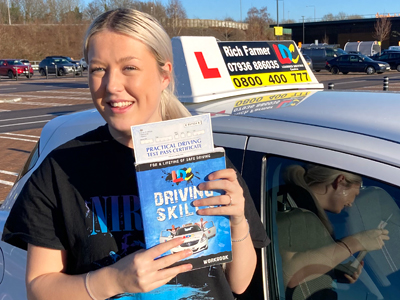 Olivia
I have loved doing my driving lessons with Rich. He has always been so patient, professional and helpful. He adapted his teaching methods to suit me and has amazing techniques to calm your nerves. He has always gone the extra effort to fit lessons in. I love all of the LDC system and found it very useful. Thank you so much Rich, you have helped me so much and I will really miss our weekly lessons. I would 100%. Recommend Rich to anyone learning how to drive.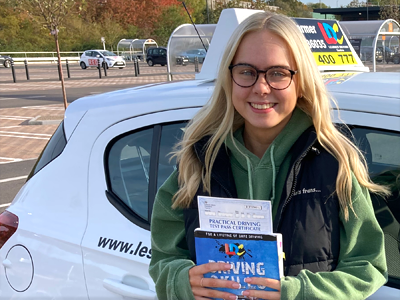 Lottie Hebb
Rich has been very helpful and patient throughout all of my lessons. He's always encouraging and extremely helpful which made me feel comfortable driving and look forward to my lessons more. I definitely recommend Rich as a driving instructor. The LDC website is very useful with all of its different functions. Rich also gave me a lot of support with my theory, meaning I went into my theory test confidently.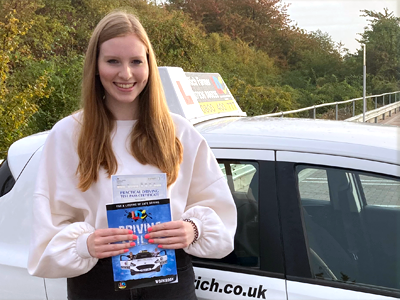 Jess Horan
First Time Pass
My instructor Rich was welcoming and helpful from my first lesson right up to my test. This helped a lot with my nerves as I knew he was always there if I needed help. The feedback he gave me at the end of each lesson was both useful and constructive. Rich was very supportive and had faith in me when I took my test which boosted my confidence and resulted in a pass. In regards to the LDC workbook, areas of it which I found useful were the lesson reviews and the information about the driving test including what the examiner is looking for.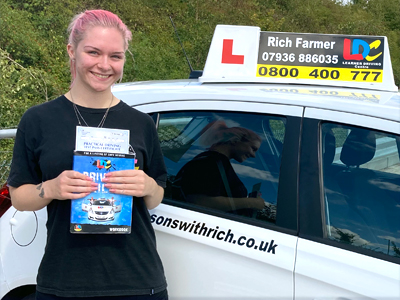 Megan Randall
Passed First Time!
Had a really good few months learning with Rich. I wouldn't recommend anyone else to learn with. In-depth lessons and always helps with anything you're unsure on. I passed first time with only two driving faults and couldn't be happier! I think the LDC workbook and videos are brilliant for giving any extra information; they're useful to look back on. I now feel really comfortable driving and can't wait to get on the road!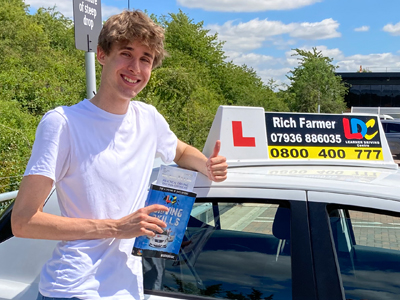 Joe Bacon
First Time Pass
My Instructor is brilliant! He is very supportive and knowledgeable, very encouraging and aware of mistakes and how to fix them. The LDC System has also been very helpful with its breakdown and presentation of manoeuvres. The progression through the skills is good too.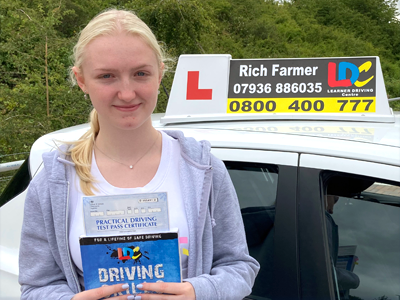 Zara Hepworth
Passed 1st Time
I was put in the position of having to find a new instructor half way through learning which was initially very daunting. Rich instantly put me at ease. My lessons were all enjoyable and helpful, and Rich really helped me with my confidence as initially I was a very nervous driver. I found the LDC workbook useful in preparation for my lessons. I really looked forward to every lesson as Rich is very friendly and reassuring. I thank him so much as his tuition and guidance helped me to pass my test first time. I couldn't recommend him enough.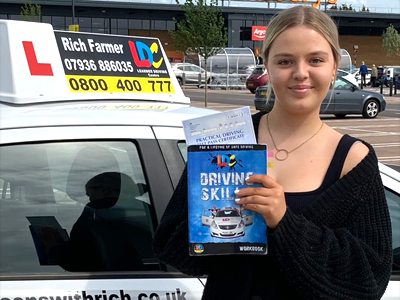 Ellie Burns
First Time Pass!
Rich was extremely helpful, patient, kind and caring. I felt at ease in every lesson with him. The LDC workbook was very helpful as I was able to revise over what had happened on previous lessons and know what I needed go over. I found the whole experience thoroughly enjoyable as well as helpful. The lessons and the way they were planned out were exactly what I could have hoped for and is what always made me feel so calm and in control. The whole LDC website was very helpful with all of its different functions. Overall 10/10 for sure!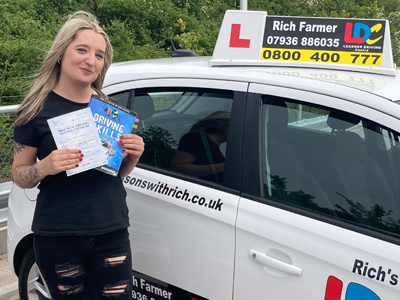 Donna Lewis
Passed first time!
Before meeting my Instructor, I had very little confidence in driving and he was very patient with me and helped me build my confidence up to pass. I highly recommend Rich as an Instructor - he is simply the best!!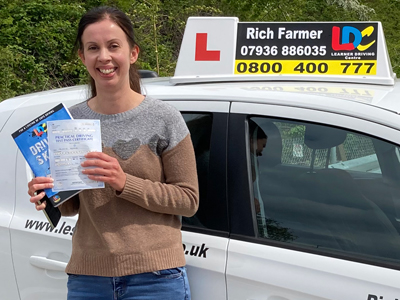 Mel Hoare
First Time Pass!
I have had different instructors and Rich is the best. He made me comfortable, had a lot of patience and explained things well. He gave me the skills and confidence to pass first time.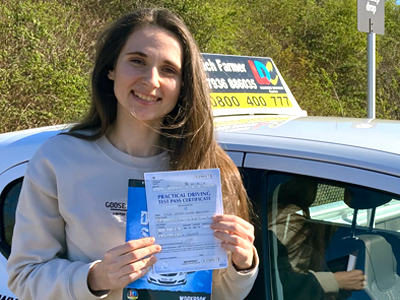 Chloe Britton
Rich has been amazing and has always been patient with me and reassured me. As someone who has little confidence, Rich was able to believe in me and offer support on my areas of weakness. Rich has always been professional and punctual and is so friendly. He is very flexible with appointments and will always work around you wherever possible. He lets you guide your learning and offers and provides a structured improvement plan. His online resources are great and can help plan and practice with both theory and practical lessons. He provides amazing advice and guidance and explains things in a way that you understand! I have had numerous instructors and passing with Rich is the best decision I ever made. I would recommend him to absolutely everyone!! Thank you for everything Rich !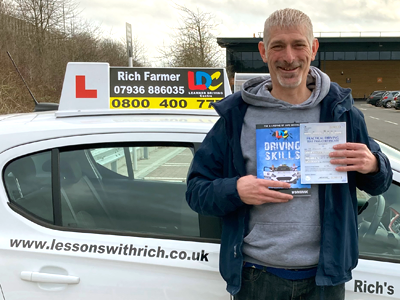 Malcolm Forbes
Passed First Time
A massive thank you to Rich for everything that he has done for me. I am 44 years old and never had a driving lesson. Rich has been nothing but calm, professional and a perfect instructor. With clear and precise information and directions I managed to pass my test first time after only a few months of lessons. The LDC app and Driving Skills workbook was a massive help with the use of official DVSA theory test questions. So from the bottom of my heart Rich, thankyou so much you have changed my life. I will miss my weekly lessons, but I have made a friend for life. Thank you.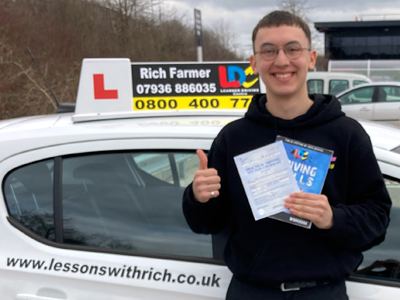 Ned Doherty
Passed First Time
Excellent, clear and concise communication. Rich always made me feel relaxed and actually enjoy driving and learning. Going through the LDC Driving Skills workbook with Rich helped me to set goals for each lesson, understand the car and the theory behind driving. The LDC App and online resources were useful for passing my theory.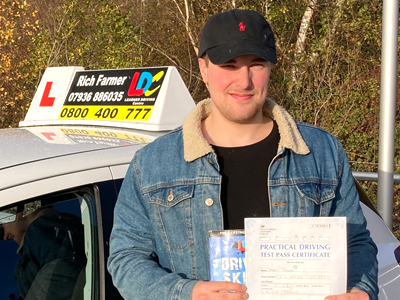 Jake Taylor
Rich has been nothing but helpful and professional the whole way through. After being messed around with my other instructor and already having a test booked in, Rich was able to step in and help. Lessons have always been enjoyable with my confidence greatly improving and having a structure to what I can improve on in the next lesson. Rich has explained everything so well and is so flexible to meet my needs. I couldn't say a bad thing about him and would recommend him to anyone that lacks confidence but wants to pass.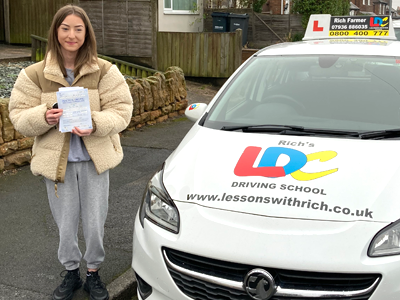 Paige Skelham
Can't thank you enough. I have really enjoyed my lessons and will miss them every Thursday. You have been so helpful and so friendly. I have loved using LDC system to pass my test as it provides everything you need to pass. I felt so prepared for my test, and even when my nerves were starting to get the better of me, my instructor helped calm me down. I can not recommend LDC enough!