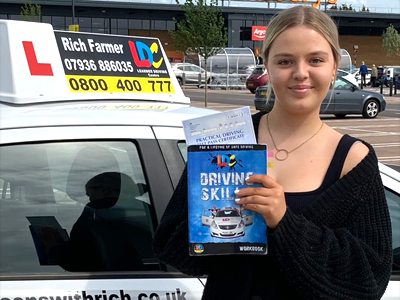 Ellie Burns
First Time Pass!
Rich was extremely helpful, patient, kind and caring. I felt at ease in every lesson with him. The LDC workbook was very helpful as I was able to revise over what had happened on previous lessons and know what I needed go over. I found the whole experience thoroughly enjoyable as well as helpful. The lessons and the way they were planned out were exactly what I could have hoped for and is what always made me feel so calm and in control. The whole LDC website was very helpful with all of its different functions. Overall 10/10 for sure!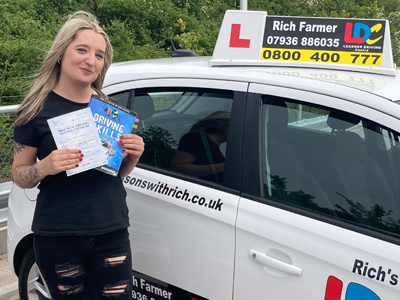 Donna Lewis
Passed first time!
Before meeting my Instructor, I had very little confidence in driving and he was very patient with me and helped me build my confidence up to pass. I highly recommend Rich as an Instructor - he is simply the best!!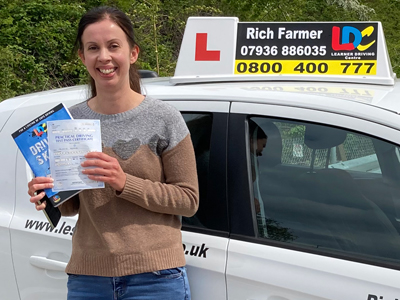 Mel Hoare
First Time Pass!
I have had different instructors and Rich is the best. He made me comfortable, had a lot of patience and explained things well. He gave me the skills and confidence to pass first time.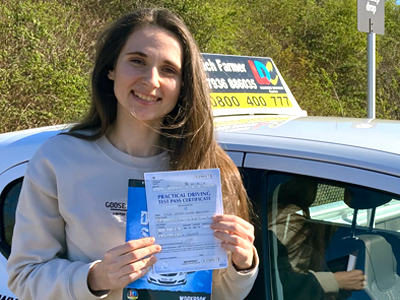 Chloe Britton
Rich has been amazing and has always been patient with me and reassured me. As someone who has little confidence, Rich was able to believe in me and offer support on my areas of weakness. Rich has always been professional and punctual and is so friendly. He is very flexible with appointments and will always work around you wherever possible. He lets you guide your learning and offers and provides a structured improvement plan. His online resources are great and can help plan and practice with both theory and practical lessons. He provides amazing advice and guidance and explains things in a way that you understand! I have had numerous instructors and passing with Rich is the best decision I ever made. I would recommend him to absolutely everyone!! Thank you for everything Rich !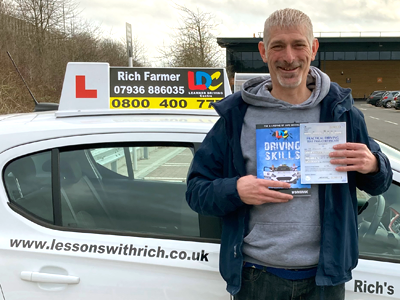 Malcolm Forbes
Passed First Time
A massive thank you to Rich for everything that he has done for me. I am 44 years old and never had a driving lesson. Rich has been nothing but calm, professional and a perfect instructor. With clear and precise information and directions I managed to pass my test first time after only a few months of lessons. The LDC app and Driving Skills workbook was a massive help with the use of official DVSA theory test questions. So from the bottom of my heart Rich, thankyou so much you have changed my life. I will miss my weekly lessons, but I have made a friend for life. Thank you.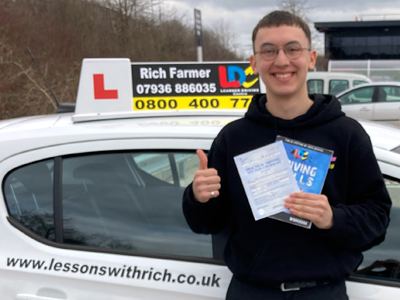 Ned Doherty
Passed First Time
Excellent, clear and concise communication. Rich always made me feel relaxed and actually enjoy driving and learning. Going through the LDC Driving Skills workbook with Rich helped me to set goals for each lesson, understand the car and the theory behind driving. The LDC App and online resources were useful for passing my theory.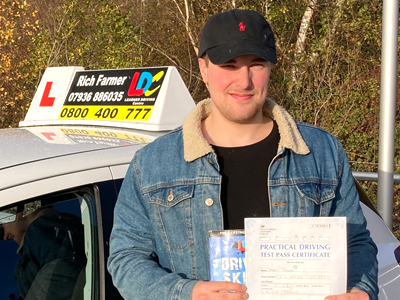 Jake Taylor
Rich has been nothing but helpful and professional the whole way through. After being messed around with my other instructor and already having a test booked in, Rich was able to step in and help. Lessons have always been enjoyable with my confidence greatly improving and having a structure to what I can improve on in the next lesson. Rich has explained everything so well and is so flexible to meet my needs. I couldn't say a bad thing about him and would recommend him to anyone that lacks confidence but wants to pass.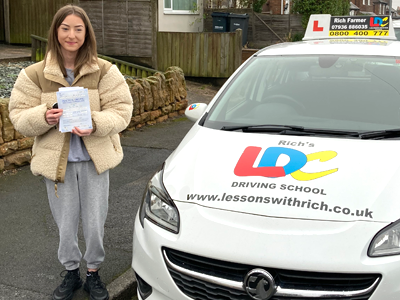 Paige Skelham
Can't thank you enough. I have really enjoyed my lessons and will miss them every Thursday. You have been so helpful and so friendly. I have loved using LDC system to pass my test as it provides everything you need to pass. I felt so prepared for my test, and even when my nerves were starting to get the better of me, my instructor helped calm me down. I can not recommend LDC enough!